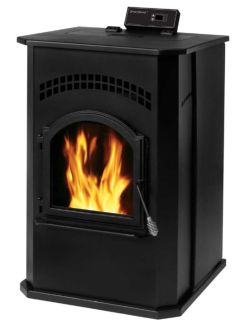 The U.S. Consumer Product Safety Commission in cooperation with England's Stove Works, Inc. of Monroe, Virginia, has issued a voluntary recall of the Smartstove freestanding pellet stoves.Smoke can build up inside the firebox due to ash accumulation and the glass in the door can break, posing a laceration hazard.
About 2,300 stoves were sold at Lowe's and specialty hardware stores nationwide and online at www.lowes.com from September 2015 through December 2015 for about $1,500.00.
This recall involves Smartstove free standing pellet stoves, with model number 55-SHSSP01 and serial numbers ranging from 101 through 2513. The cast iron pellet stove is about 36 inches high, 24 ½ inches wide, 24 inches deep and has a black satin finish. It has an arched glass door on the front with vents above the door. The Smartstove logo appears on the stove's control panel. The model and serial numbers are located on a black plate on the top right hand corner on the back of the stove.  The firm has received four reports of incidents, including one report of a minor injury.
Consumers should stop using the unit until repaired and contact the firm to receive a free repair kit and installation instructions..
For more information, please visit www.heatedefined.com and click on "Notice" located at the top of the page to receive a repair kit.