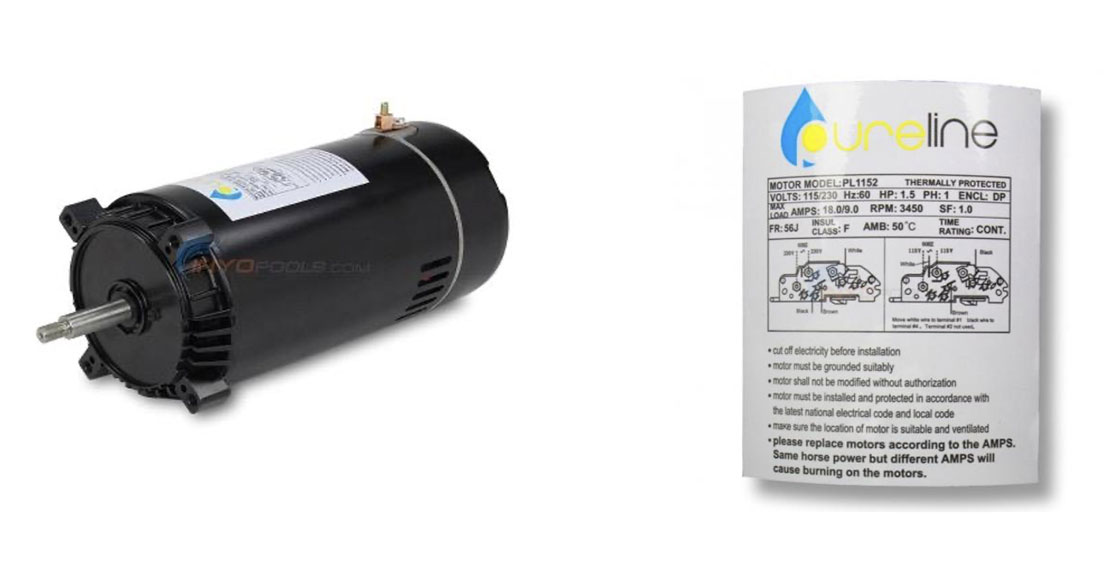 The Consumer Product Safety Commission in cooperation with Inyo Pool Products Inc., of Longwood, Fla., has
voluntarily issued a recall of the PureLine 1.5 HP Pool Pump Motors. This recall involves two models of 1.5 HP electric motors that drive pool pumps sold under the PureLine brand name with model numbers PL1152 and PL2152.  The PL1152 model has a round flange and the PL2152 has a square flange.  The model number can be found on the white label on the top of the recalled motors.  The motors are black.  The PL1152 motors are 11-7/8 inches long and 5-1/2 inches in diameter.  The PL2152 motors are 12-1/2 inches long and 6-1/2 inches in diameter.
The firm has received 26 reports of motors burning, smoking, or melting.  No injuries have been reported.
This item was available Online at www.inyopools.com between April 2017 through May 2020 for between $140 and $160.
Consumers should immediately stop using the recalled pool pump motors and contact Inyo Pool Products for a free replacement.  After replacement, consumers should cut one of the wires connecting to the capacitor and dispose of the recalled pump motors in accordance with local requirements.  Consumers are asked to send a photo of the cut wires to Inyo Pool Products at recall@inyopools.com.  Inyo Pool Products is contacting all known purchasers directly.
Consumer Contact:
Inyo Pool Products toll-free at 888-575-0485 from 9 a.m. to 6 p.m. ET Monday through Friday, email at recall@inyopools.com, or online at www.inyopools.com and click on Recall for more information, including an instructional video on replacing the recalled motor and cutting one of the wires.