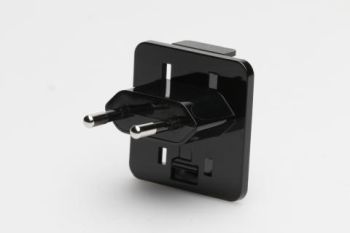 The Consumer Product Safety Commission in cooperation with NVIDIA Corporation of Santa Clara, California has voluntarily issued a recall of the European plug heads for NVIDIA SHIELD™ power adaptors. The plug heads can break exposing metal prongs, posing an electrical shock hazard.
This recall involves European plug heads for power adaptors including with NVIDIA SHIELD™ World Charger Kits, as well as with NVIDIA SHEILD tablet computers and TVs intended for use in Europe. The European plug has two thin round metal prongs within a black plastic hexagonal extender on a black plastic base plate that can be attached to the power adaptor. The power adaptor has the model number SPA011AU5W2 and the NVIDIA name and logo etched on the side of the power adaptor where the European plug head can be attached. There are six different plug heads that come wit the World Charger Kit. Only the European plug head is being recalled.
Approximately 6,900 units were sold in the United States online at NVIDIA.com, Amazon.com, BestBuy.com and NewEgg.com from October 2015 through June 2017 for about $30.There have been no reports of injuries or incidents in the U.S.NVIDIA has received nine reports of the European plug heads breaking overseas, including six reports of consumers receiving electrical shocks.
Consumers should immediately stop using the recalled European plug heads and contact NVIDIA for a free replacement. For more information, please visit: www.nvidia.com and click on USA/CANADA link, then click on the support tab located at the top of the page.