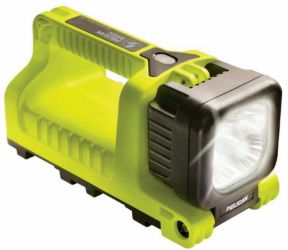 The U.S. Consumer Product Safety Commission in cooperation with Pelican Products of Torrance, Calif. (flashlights) and HYB Battery Co., Ltd. Of China (batteries) has voluntarily issued a recall of about 3,800 flashlights and 150 replacement battery packs (in addition, about 800 flashlights and 18 replacement battery packs sold in Canada).The battery packs in the flashlights can overheat, posing a fire hazard to consumers.
The flashlights and battery packs were sold in sports and specialty stores nationwide, online at amazon.com and other industrial supply dealers or distributors from May 2014 through January 2016 for between $240 and $280 for the flashlight and $50 to $70 for the battery packs, that were sold separate for a new replacement battery pack.
This recall involves Pelican 9410L flashlights equipped with lithium ion battery packs and replacement battery packs. The flashlights are yellow and black. "Pelican 9410L" is printed on the front of the flashlights and on the top of the handle. The recalled flashlights have manufacturer part number 9410-021-245 or 9410-021-110 printed on the packaging. The manufacturer part number for the recalled battery pack is 9413-301-001 and is printed on a label on the battery's shrink wrap. Only battery packs that contain green shrink wrapped cells are included in the recall.
Pelican has received two reports of overheating battery packs. No injuries have been reported. Consumers should immediately stop using the recalled flashlights and replacement battery packs and contact Pelican for instructions on returning the flashlights for free installation of a new battery pack or to exchange replacement battery packs that were sold separately for a new replacement battery pack.
For more information please visit www.pelican.com and click on "Recall Information" at the bottom of the page.