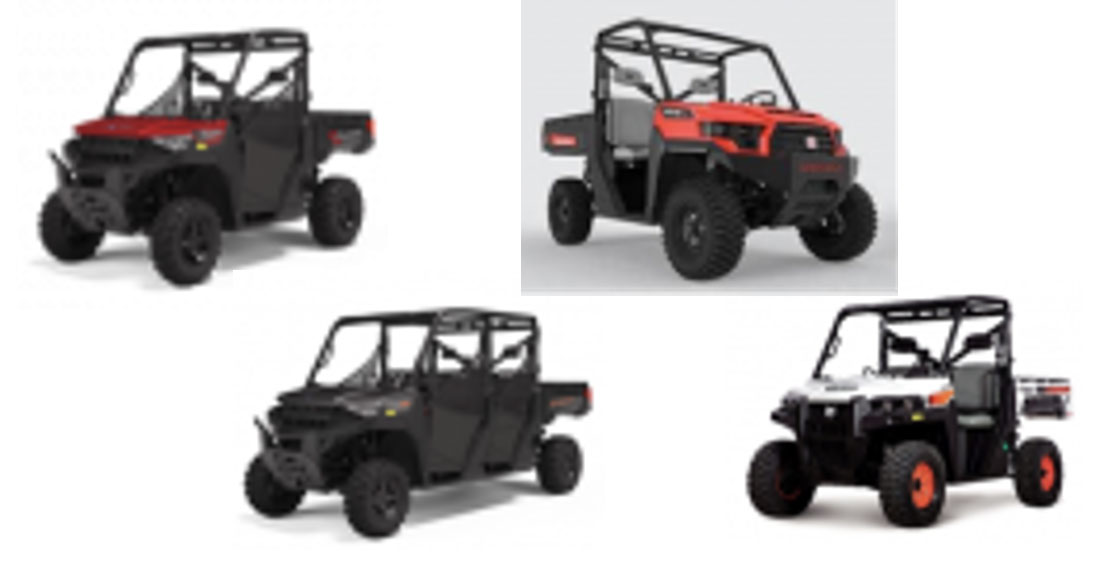 The Consumer Product Safety Commission in cooperation with Polaris Inc., of Medina, Minn, has voluntarily issued a recall of the 2020-2021 RANGER 1000 and RANGER CREW 1000, Model Year 2020 ProXD 2000G and 4000G, Model Year 2020-2021 Ariens/Gravely JSV3200, JSV3400, and JSV6400, Model Year 2020 Bobcat UV34 4×4 GAS and UV34 XL GAS, and Model Year 2021 Bobcat UV34 4×4 GAS off-road vehicles.  The vehicles were sold in the following colors:  Black, tan, red, titanium, green, camo, blue, gray and white.  The RANGER vehicles have three or six seats, and the ProXD, Ariens/Gravely, and Bobcat vehicles have two or four seats.  The RANGER and ProXD vehicles have "POLARIS" stamped on the front grille. The Ariens/Gravely vehicles have "Gravely" stamped on the front grille, and the Bobcat vehicles have the Bobcat logo on the front grille.
The firm has received three reports of drive belt failure resulting in a damaged fuel line, including two reports of fire, neither of which involved property damage other than to the vehicle. No injuries have been reported.
Sold at Polaris, Ariens, and Bobcat dealers nationwide from September 2018 through December 2020 for between $13,000 and $18,500.
Consumers should immediately stop using the recalled vehicles and contact a Polaris, Ariens, or Bobcat dealer to schedule a free inspection and repair, if needed.  Polaris, Ariens, and Bobcat are notifying all dealers and contacting registered owners directly.
Consumer Contact:
Polaris at 800-765-2747 from 7 a.m. to 7 p.m. CT Monday through Friday or online at www.polaris.com and click on "Off Road Safety Recalls" or https://www.polaris.com/en-us/off-road-recalls/ to check your vehicle identification number "VIN" or go to the "Product Safety Recalls" page at https://www.polaris.com/en-us/recalls/off-road/ to see if your vehicle is included in any recalls.